events/2013-04-02-html5devconf-microformats2-html5: Difference between revisions
Jump to navigation
Jump to search
m (Replace <entry-title> with {{DISPLAYTITLE:}})

 

(6 intermediate revisions by one other user not shown)
Line 1:
Line 1:

<entry-title>microformats2 & HTML5: The Next Evolutionary Step For Web Data at HTML5DevConf</entry-title>

microformats2 & HTML5: The Next Evolutionary Step For Web Data at HTML5DevConf

<div class="event-page h-event vevent">

<div class="event-page h-event vevent">

== Details ==

== Details ==

;When

;When

:<span class="dt-start dtstart"><time class="value">2013-04-02</time> from <time class="value">11:40</time></span>-<span class="dt-end dtend"><time class="value" datetime="2013-04-02 12:30">12:30</time></span>

:<span class="dt-start dtstart"><time class="value">2013-04-02</time> from <time class="value">11:40</time></span>-<span class="dt-end dtend"><time class="value" datetime="2013-04-02 12:30">12:30</time></span>

Line 17:
Line 17:

:http://plancast.com/p/gym6

:http://plancast.com/p/gym6

:http://www.sfhtml5.org/events/101996602

:http://www.sfhtml5.org/events/101996602

<!-- ; Slides

; Slides

: to be posted

:

-->

--

 

   

   

'''[http://h2vx.com/ics/microformats.org/wiki/events/2013-04-02-html5devconf-microformats2-html5 Add this event to your calendar]''' http://www.boogdesign.com/images/buttons/microformat_hcalendar.png

'''[http://h2vx.com/ics/microformats.org/wiki/events/2013-04-02-html5devconf-microformats2-html5 Add this event to your calendar]''' http://www.boogdesign.com/images/buttons/microformat_hcalendar.png

Line 29:
Line 31:





Millions of web sites use microformats to make their data available. Other approaches have emerged as well (e.g. RDFa, microdata, OGP, schema, Twitter Cards). Tantek will discuss which microformats to use for search engines and for public APIs.

Millions of web sites use microformats to make their data available. Other approaches have emerged as well (e.g. RDFa, microdata, OGP, schema, Twitter Cards). Tantek will discuss which microformats to use for search engines and for public APIs.






== Tags ==

== Tags ==

Line 51:
Line 55:





== Attendees ==

== Attendees ==

* [[User:Tantek|Tantek Çelik]] - speaker

* [[User:Tantek|Tantek Çelik]]- speaker

* … add yourself here!

* … add yourself here!





Line 62:
Line 66:

[https://twitter.com/leggomymego/status/319160079075131393 https://o.twimg.com/1/proxy.jpg?t=FQQVBBhhaHR0cHM6Ly9pcnMzLjRzcWkubmV0L2ltZy9nZW5lcmFsLzYwMHg2MDAvNDQ1NDY0NF81dEVzY1E3SENZblVabE55NktmTTNHUldBbXhEQTVJNUNYcWUzemowcVVNLmpwZxQEFgASAA&s=324-7ydFZaUj0uSNFHLJQREFwvgibGXkSMxEDEeVGuk&ext=.jpg]

[https://twitter.com/leggomymego/status/319160079075131393 https://o.twimg.com/1/proxy.jpg?t=FQQVBBhhaHR0cHM6Ly9pcnMzLjRzcWkubmV0L2ltZy9nZW5lcmFsLzYwMHg2MDAvNDQ1NDY0NF81dEVzY1E3SENZblVabE55NktmTTNHUldBbXhEQTVJNUNYcWUzemowcVVNLmpwZxQEFgASAA&s=324-7ydFZaUj0uSNFHLJQREFwvgibGXkSMxEDEeVGuk&ext=.jpg]






''Add a photograph from this event here''.

''Add photograph from this event here''.






== Notes ==

== Notes ==

<!-- Presentation slides:  

Presentation slides:  

* http://tantek.com/presentations/

* http://tantek.com/presentations/

-->






Topics:

Topics:

Line 84:
Line 87:

<!-- Event Author: Update the following URL to use this event's tag -->

<!-- Event Author: Update the following URL to use this event's tag -->

Also, find posts on this meetup on [http://blogsearch.google.co.uk/blogsearch?q=microformats-session-2013-04-02 Google Blog Search] or [http://technorati.com/search/microformats-session-2013-04-02 Technorati].

Also, find posts on this meetup on [http://blogsearch.google.co.uk/blogsearch?q=microformats-session-2013-04-02 Google Blog Search] or [http://technorati.com/search/microformats-session-2013-04-02 Technorati].










== Tweets and Testimonials ==

== Tweets and Testimonials ==

Most recent first:

:

* https://twitter.com/ted_drake/status/319115894154485760 <blockquote class="twitter-tweet"><p>@[https://twitter.com/t t] will discuss [https://twitter.com/search/%23microformats2 #microformats2] today at the [https://twitter.com/search/%23HTML5DevConf #HTML5DevConf]. The new version is much simpler to use. http://microformats.org/wiki/microformats-2  [https://twitter.com/search/%23HTML5 #HTML5]</p>&mdash; ted_drake (@ted_drake) [https://twitter.com/ted_drake/status/319115894154485760 April 2, 2013]</blockquote>

* https://twitter.com/ted_drake/status/319115894154485760 <blockquote class="twitter-tweet"><p>@[https://twitter.com/t t] will discuss [https://twitter.com/search/%23microformats2 #microformats2] today at the [https://twitter.com/search/%23HTML5DevConf #HTML5DevConf]. The new version is much simpler to use. http://microformats.org/wiki/microformats-2  [https://twitter.com/search/%23HTML5 #HTML5]</p>&mdash; ted_drake (@ted_drake) [https://twitter.com/ted_drake/status/319115894154485760 April 2, 2013]</blockquote>

* https://twitter.com/TheUnquietOne/status/319158686977236993 <blockquote class="twitter-tweet"><p>About to watch @[https://twitter.com/t t] give a talk about microformats2 &amp; HTML5 at [https://twitter.com/search/%23html5devconf #html5devconf] in a 1000 person room. No pressure!</p>&mdash; Ashley Smith (@TheUnquietOne) [https://twitter.com/TheUnquietOne/status/319158686977236993 April 2, 2013]</blockquote>

* https://twitter.com/TheUnquietOne/status/319158686977236993 <blockquote class="twitter-tweet"><p>About to watch @[https://twitter.com/t t] give a talk about microformats2 &amp; HTML5 at [https://twitter.com/search/%23html5devconf #html5devconf] in a 1000 person room. No pressure!</p>&mdash; Ashley Smith (@TheUnquietOne) [https://twitter.com/TheUnquietOne/status/319158686977236993 April 2, 2013]</blockquote>

* https://twitter.com/threecleartones/status/319159173847855104 <blockquote class="twitter-tweet"><p>Tantek Celik of Mozilla, microformats2 [https://twitter.com/search/%23html5devconf #html5devconf] http://twitter.com/threecleartones/status/319159173847855104/photo/1 </p>&mdash; Jeff Beam (@threecleartones) [https://twitter.com/threecleartones/status/319159173847855104 April 2, 2013]</blockquote>

* https://twitter.com/threecleartones/status/319159173847855104 <blockquote class="twitter-tweet"><p>Tantek Celik of Mozilla, microformats2 [https://twitter.com/search/%23html5devconf #html5devconf] http://twitter.com/threecleartones/status/319159173847855104/photo/1 </p>&mdash; Jeff Beam (@threecleartones) [https://twitter.com/threecleartones/status/319159173847855104 April 2, 2013]</blockquote>

* https://twitter.com/leggomymego/status/319160079075131393 <blockquote class="twitter-tweet"><p>Watching @[https://twitter.com/tantek tantek]'s microformats talk at the html5conf. (@ Palace Hotel, San Francisco - @[https://twitter.com/spg spg] w/ @[https://twitter.com/t t]) [pic]: http://4sq.com/16k0Mbi 4sq.com/16k0Mbi</p>&mdash; Megan ORorke (@leggomymego) [https://twitter.com/leggomymego/status/319160079075131393 April 2, 2013]</blockquote>

* https://twitter.com/leggomymego/status/319160079075131393 <blockquote class="twitter-tweet"><p>Watching @[https://twitter.com/tantek tantek]'s microformats talk at the html5conf. (@ Palace Hotel, San Francisco - @[https://twitter.com/spg spg] w/ @[https://twitter.com/t t]) [pic]: http://4sq.com/16k0Mbi 4sq.com/16k0Mbi</p>&mdash; Megan ORorke (@leggomymego) [https://twitter.com/leggomymego/status/319160079075131393 April 2, 2013]</blockquote>

* https://twitter.com/RoyMcKenzie/status/319164705274994688 <blockquote class="twitter-tweet"><p>"If you mark it up, they will crawl it." -- Tantek Celik, Regarding microformats, HTML5, and indexing data. [https://twitter.com/search/%23html5devconf #html5devconf]</p>&mdash; Roy McKenzie (@RoyMcKenzie) [https://twitter.com/RoyMcKenzie/status/319164705274994688 April 2, 2013]</blockquote>

* https://twitter.com/RoyMcKenzie/status/319164705274994688 <blockquote class="twitter-tweet"><p>"If you mark it up, they will crawl it." -- Tantek Celik, Regarding microformats, HTML5, and indexing data. [https://twitter.com/search/%23html5devconf #html5devconf]</p>&mdash; Roy McKenzie (@RoyMcKenzie) [https://twitter.com/RoyMcKenzie/status/319164705274994688 April 2, 2013]</blockquote>

* https://twitter.com/getify/status/319165399625261056 <blockquote class="twitter-tweet"><p>[https://twitter.com/search/%23html5devconf #html5devconf] no python microformats parser yet...huh. challenge sent out. I bet less than 48hrs til one shows up.</p>&mdash; Kyle (@getify) [https://twitter.com/getify/status/319165399625261056 April 2, 2013]</blockquote>

* https://twitter.com/getify/status/319165399625261056 <blockquote class="twitter-tweet"><p>[https://twitter.com/search/%23html5devconf #html5devconf] no python microformats parser yet...huh. challenge sent out. I bet less than 48hrs til one shows up.</p>&mdash; Kyle (@getify) [https://twitter.com/getify/status/319165399625261056 April 2, 2013]</blockquote>

** https://twitter.com/leobalter/status/319191507217289216 <blockquote class="twitter-tweet"><p>@[https://twitter.com/getify getify] better run cause I'd sent this challenge to some Perl friends. :) cc @[https://twitter.com/garu_rj garu_rj]</p>&mdash; Leo Balter (@leobalter) [https://twitter.com/leobalter/status/319191507217289216 April 2, 2013]</blockquote>

** https://twitter.com/leobalter/status/319191507217289216 <blockquote class="twitter-tweet"><p>@[https://twitter.com/getify getify] better run cause I'd sent this challenge to some Perl friends. :) cc @[https://twitter.com/garu_rj garu_rj]</p>&mdash; Leo Balter (@leobalter) [https://twitter.com/leobalter/status/319191507217289216 April 2, 2013]</blockquote>

* https://twitter.com/podlipensky/status/319166725855784960 <blockquote class="twitter-tweet"><p>[https://twitter.com/search/%23html5devconf #html5devconf] You can use microformats to improve your SEO</p>&mdash; podlipensky (@podlipensky) [https://twitter.com/podlipensky/status/319166725855784960 April 2, 2013]</blockquote>

* https://twitter.com/podlipensky/status/319166725855784960 <blockquote class="twitter-tweet"><p>[https://twitter.com/search/%23html5devconf #html5devconf] You can use microformats to improve your SEO</p>&mdash; podlipensky (@podlipensky) [https://twitter.com/podlipensky/status/319166725855784960 April 2, 2013]</blockquote>

* https://twitter.com/UncleBumpy/status/319168069517836289 <blockquote class="twitter-tweet"><p>I've always liked and used microformats. Now I love them.</p>&mdash; James S. (@UncleBumpy) [https://twitter.com/UncleBumpy/status/319168069517836289 April 2, 2013]</blockquote>

* https://twitter.com/UncleBumpy/status/319168069517836289 <blockquote class="twitter-tweet"><p>I've always liked and used microformats. Now I love them.</p>&mdash; James S. (@UncleBumpy) [https://twitter.com/UncleBumpy/status/319168069517836289 April 2, 2013]</blockquote>

* https://twitter.com/AviOnWire/status/319168883766460416 <blockquote class="twitter-tweet"><p>Impressive introduction to @[https://twitter.com/microformats microformats] by @[https://twitter.com/t t] [https://twitter.com/search/%23html5devconf #html5devconf] very useful and interesting.</p>&mdash; Avi Singh (@AviOnWire) [https://twitter.com/AviOnWire/status/319168883766460416 April 2, 2013]</blockquote>

* https://twitter.com/AviOnWire/status/319168883766460416 <blockquote class="twitter-tweet"><p>Impressive introduction to @[https://twitter.com/microformats microformats] by @[https://twitter.com/t t] [https://twitter.com/search/%23html5devconf #html5devconf] very useful and interesting.</p>&mdash; Avi Singh (@AviOnWire) [https://twitter.com/AviOnWire/status/319168883766460416 April 2, 2013]</blockquote>

Line 103:
Line 109:

* https://twitter.com/AlisonBeezy/status/319174581292236801 <blockquote class="twitter-tweet"><p>Very excited about the evolution of microformats. Super informative &amp; engaging session by @[https://twitter.com/t t]. [https://twitter.com/search/%23html5devconf #html5devconf]</p>&mdash; alison boden (@AlisonBeezy) [https://twitter.com/AlisonBeezy/status/319174581292236801 April 2, 2013]</blockquote>

* https://twitter.com/AlisonBeezy/status/319174581292236801 <blockquote class="twitter-tweet"><p>Very excited about the evolution of microformats. Super informative &amp; engaging session by @[https://twitter.com/t t]. [https://twitter.com/search/%23html5devconf #html5devconf]</p>&mdash; alison boden (@AlisonBeezy) [https://twitter.com/AlisonBeezy/status/319174581292236801 April 2, 2013]</blockquote>






<!--

* https://twitter.com/AlisonVoss/status/227505644234735616

<blockquote class="twitter-tweet"><p>excited to already be putting [https://twitter.com/t @t]'s awesome talk on microformats to good use [https://twitter.com/search/%2523innovatecon #innovatecon]</p>&mdash; alison voss (@AlisonVoss) [https://twitter.com/AlisonVoss/status/227505644234735616 2012-07-23 20:49:07+00:00]</blockquote>

* https://twitter.com/t/status/226786669150490625

<blockquote class="twitter-tweet" data-in-reply-to="226786669150490625"><p>[https://twitter.com/t @t] I'd been wanting to get caught up w/ where you guys were. Thanks for the link/pres.</p>&mdash; bsletten (@bsletten) [https://twitter.com/bsletten/status/226790844357808128  2012-07-21 21:28:45+00:00]</blockquote>

<blockquote class="twitter-tweet" data-in-reply-to="226786669150490625"><p>[https://twitter.com/t @t] really interesting stuff for a designer like myself. Thanks! [https://twitter.com/search/%2523innovatecon #innovatecon]</p>&mdash; Lance Shields (@lancesh) [https://twitter.com/lancesh/status/226790690917580800  2012-07-21 21:28:08+00:00]</blockquote>

<blockquote class="twitter-tweet" data-in-reply-to="226786669150490625"><p>[https://twitter.com/t @t] this was a great talk. Definitely some stuff I'm going to use on my current/future projects.</p>&mdash; Paul Grock (@paulgrock) [https://twitter.com/paulgrock/status/226790148464066561 2012-07-21 21:25:59+00:00]</blockquote>

-->






</div> <!-- End of @vevent -->

</div> <!-- End of @vevent -->
---
Latest revision as of 16:22, 18 July 2020
Details
When

from -

Where

Grand Ballroom, Palace Hotel San Francisco, 2 New Montgomery Street, San Francisco, CA

What

microformats2 & HTML5: The Next Evolutionary Step For Web Data

Web

Conference URLs

Slides

Video

Add this event to your calendar

Description
New HTML5 elements and microformats give us a simple way to represent web data without additional URLs, file formats, or callbacks. Microformats2 and HTML5 improvements bring better accessibility, simpler markup, improved semantics, and a direct mapping to JSON APIs for data consumers.
Millions of web sites use microformats to make their data available. Other approaches have emerged as well (e.g. RDFa, microdata, OGP, schema, Twitter Cards). Tantek will discuss which microformats to use for search engines and for public APIs.
Tags
Use the following tags on related content (blog posts, photos, tweets): tags: h5m2 html5-microformats2 html5 microformats2 microformats html5devconf html5devconf2013 san-francisco palace-hotel microformats-session microformats-session-2013-04-02
If you use Twitter, mention @microformats in tweets about the event, and track them on Twitter Search.
Attendees
Photographs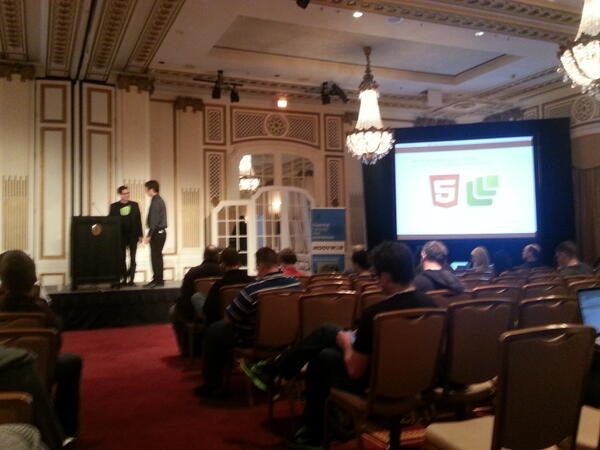 Add another photograph from this event here.
Notes
Presentation slides:
Topics:
Notes on https://etherpad.mozilla.org/html5microformats
...
Articles and Blog Posts
Articles and blog posts following up on the meetup. Add a link to your post in the list below:
Also, find posts on this meetup on Google Blog Search or Technorati.
Tweets and Testimonials
In time sequence order:
Related Pages